Hanson Research Launches New HRCare 360 Support Program
Hanson's new full-service program upholds quality and performance while controlling costs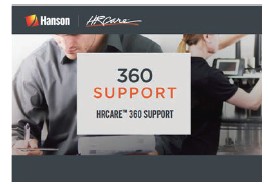 Los Angeles, CA—May 9, 2016 'Hanson Research Corporation today announced the launch of HRCare 360 Support, a comprehensive program covering all dissolution and diffusion testing systems manufactured by Hanson Research. The release comes in the same year as Hanson's announcement of a three-year warranty for all instruments sold in 2016 in celebration of its 65th year in business.
The HRCare 360 Support program furthers Hanson's commitment to top-notch customer service and support, offering a selection of three turnkey packages, each designed to ensure continuously high levels of performance while alleviating any and all concerns about instrument reliability, consistency, random audits, scheduling of downtime, and maintenance costs.
The VIP Preventive package features a preventive maintenance service including physical calibration of instruments to USP standards, performed twice per year, plus unlimited email and phone support, priority scheduling, all firmware updates, and a full parts and labor warranty on system electronics.
The Premium Performance package includes everything listed in VIP Preventive, twice per year, plus performance qualification (PQ) of all covered instruments; a guaranteed pass of the USP PVT (performance verification test) on dissolution testers; a full system warranty (parts and labor) on all mechanical and electronic components regardless of the age of the instrument; and certified operator training on-site.
The Mechanical ASTM package, designed for customers who have adopted a mechanical qualification (MQ) approach to regulatory conformance, provides biannual preventive maintenance and, for dissolution testers, calibration of the instrument to ASTM E2503 standards with a guaranteed pass. As with Premium Performance, the Mechanical ASTM package offers a full system warranty (parts and labor) on all mechanical and electronic components regardless of the age of the instrument and certified operator training on-site.
"The HRCare 360 Support program was developed out of a growing need for worry-free, hassle-free maintenance and calibration of critical dissolution and diffusion testing systems," explained Michael Bortz, Director of HRCare Service. "Our customers wanted complete, concierge-style support packages based on guaranteed results and absolutely no surprises on the costs of parts and labor."
As a full-service, premium support program with an attractive pricing level, HRCare 360 is designed to significantly reduce total cost of ownership as opposed to purchasing support services a la carte, or as compared to the internal costs of performing time-consuming maintenance procedures in-house.
The HRCare 360 Support program is available in the U.S. and Canada only. All services are performed by Hanson-certified technicians deeply experienced in system calibration, maintenance, and repair. Each service call includes Hanson's industry-recognized audit-proof level of documentation. For further information about the HRCare 360 Support program, please visit www.hansonresearch.com/service-validation/ .
About Hanson Research
Hanson Research is a global technology company that specializes in analytical test instruments for the pharmaceutical industry. Founded by the innovator of modern dissolution test technology, Hanson Research helps ensure the world's pharmaceuticals are pure, safe, and effective by manufacturing equipment that sets the global standard for quality, innovation, and long-term value. Hanson instruments are used by scientists in over 75 countries worldwide and are supported by the industry's top customer service team. For more information, please visit hansonresearch.com .
Contact
Sara Hanson
Hanson Research Corp.
pr@hansonresearch.com