Distek, Inc. Awarded Prestigious IDEA Bronze Trophy for BIOne 1250 Bioprocess Control System
North Brunswick, NJ - Distek, Inc., a leading manufacturer of laboratory testing instruments for the pharmaceutical and biotechnology industry for over 40 years, along with our industrial design partner - Phase One Design, has been awarded the IDEA (International Design Excellence Awards) Bronze trophy for the BIOne 1250 Bioprocess Control System (pictured).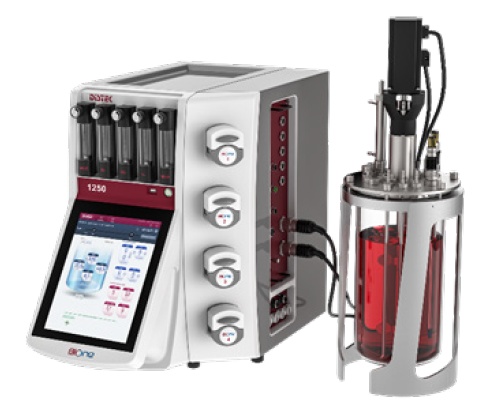 Congratulations to our Designers: Eric Schneider and Akiva Rubin of Phase One Design and Jeff Brinker, Shawn Craig, and Ryan Vrabel of Distek.
The International Design Excellence Awards (IDEA), is one of the longest running and most prestigious design awards programs in existence. Originally founded to recognize exceptional achievement in industrial design, the program has since grown to highlight design in many connected disciplines including design strategy, branding, digital interaction and more. Each year, thousands of entries are submitted by design teams across the globe, making IDEA one of the largest and most widely anticipated annual awards programs in the world.
At the 2019 IDEA Ceremony & Gala in Chicago, IL, Distek's BIOne 1250 was selected from over 1700 submissions, to be awarded with the Bronze trophy.
"Distek has always placed a focus on the industrial design of our instruments and prides ourselves as leaders in this area" say Jeff Brinker, President of Distek, Inc. "Winning the prestigious IDEA award justifies Distek's attention to detail, care and effort that we put into designing products for our customers."
To learn more about the BIOne 1250 or for your free quote, contact Distek's Corporate Office at +1 732 422 7585, by email at
bione@distekinc.com
or visit
www.distekinc.com
.
ABOUT DISTEK, INC.
Distek engineers highly innovative, technically modern and user-friendly instruments that provide many innovative features to customers, worldwide. These include water bath and bathless dissolution, media preparation and disposal, in-situ fiber optic UV, bathless tablet disintegration, content uniformity and dissolution autosampling. Distek's bioprocessing portfolio includes the BIOne single-use bioreactor for cell culture applications as well as an innovative bioreactor control system for both mammalian and microbial models.
Distek's core market includes brand name, generic and biosimilar drug manufacturers, CRO's, CMO's, Nutraceuticals, government agencies and universities. Distek holds several instrumentation and accessory patents and has been ISO certified since 2002.