Copley Adds a New Distributor in China
Welch Materials Inc. takes on exclusive responsibility for the pharmaceutical testing product range in this important market
Copley Scientific, a global supplier of pharmaceutical testing equipment, has appointed Welch Materials Inc. as exclusive distributors for its complete portfolio of tablet, powder, suppository, and semisolids testing products. The appointment will bring customers in this vital region enhanced sales and support service delivered by dedicated, knowledgeable local experts. A well-established company with more than 17 years' experience in the Chinese instrument market, Welch Materials is headquartered in Songjiang, Shanghai. The company has over 230 employees, with approximately 50% qualified to graduate/post-graduate level, and a sales network that extends across all provinces of China. Welch Materials' leading position in the Chinese HPLC (high pressure liquid chromatography) market makes them well-placed to support Copley customers across the pharmaceutical industry.
"China is a key market for us, and I'm delighted to announce the appointment of such a strong partner in the region," said Mr. Mark Copley, CEO of Copley. "Welch Materials has excellent product demonstration and training facilities at its headquarters in Songjiang, and equally importantly, an established team of scientists and engineers with highly relevant knowledge. We're looking forward to working seamlessly with Welch Materials to bring the completely new product platform for pharmaceutical testing to customers across China."
Copley's new platform for pharmaceutical testing provides productive, cost-efficient solutions for routine analysis, including tablet dissolution, disintegration, friability, hardness and thickness testing. Extremely reliable and easy-to-use, these systems deliver excellent data quality at an accessible price. Welch Materials will sell and support the complete pharmaceutical testing range, along with Copley's detergent testing products. The established Chinese partner for Copley's globally renowned inhaler testing equipment remains unchanged.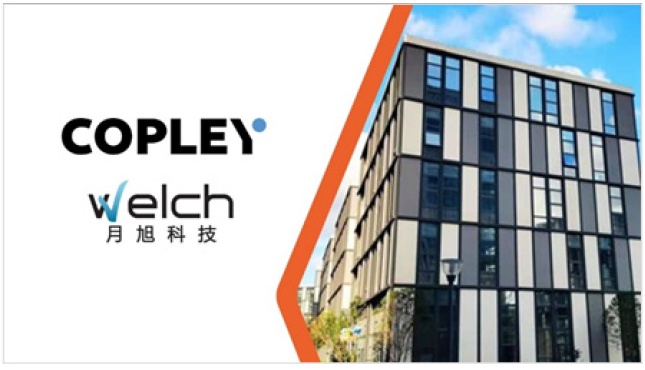 Copley appoints leading analytical instrumentation company Welch Materials as distributor for tablet, powder, suppository, semisolid and detergent testing products in China
"Copley has a compelling solution for customers looking for well-designed, reliable kit for day-to-day pharmaceutical testing and we're committed to supporting it with exemplary customer service," said Mr. Copley. "The appointment of Welch Materials underlines that commitment and will deliver important benefits to our Chinese customers over the long term."
About Copley Scientific
Copley Scientific is widely recognised as the world's leading manufacturer and supplier of inhaler test equipment and is a major provider of testing systems for other pharmaceutical dosage forms. The company also supplies equipment for detergent testing.