Distek, Inc. Releases BIOne Mixing System for Upstream and Downstream Benchtop Applications
July 15, 2021, North Brunswick, NJ — From the company that has brought you over 45 years of excellence in laboratory pharmaceutical instruments, Distek, Inc. is proud to introduce the BIOne Mixing System.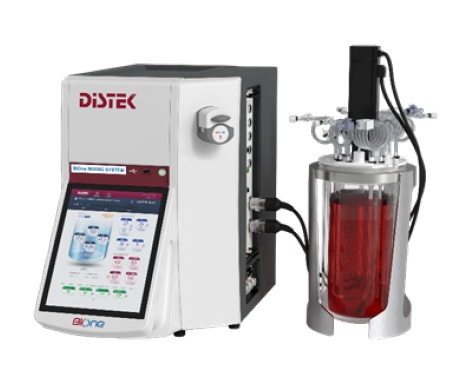 Distek, Inc. is expanding its line of benchtop bioprocessing solutions beyond just cell culture and fermentation applications with the release of the BIOne Mixing System. Upstream and downstream process development teams will now have a robust solution to replace rudimentary stir bar processes on their laboratory benchtops. Users will quickly realize the value of holistic process modeling with the next iteration of the BIOne platform.
The BIOne Mixing System offers proven magnetic drive agitation. This feature supports streamlined process scaling based upon power input per unit volume, a well-established engineering principle. Direct heating and cooling control loops within the system remove the need to invest in temperamental hot plates or expensive walk-in cold rooms to support your processes. Data trending and export capabilities allow for your processes to be efficiently documented in simple CSV formats. Such files can be easily stored within your group's preferred Electronic Laboratory Notebook. Once your process definitions are established, optimized process recipes can be saved on the BIOne Mixing System for later use, supporting standardization and process consistency for future studies.
The gamma-irradiated Single-Use Vessels used within the BIOne Mixing System are assembled within an ISO-certified cleanroom. Replacement of typical glass bottles with sanitized Single-Use Vessels can be a viable option for laboratory teams which are generating material for preclinical in vivo studies. Size 16 weldable C-Flex tubing lines, coupled with the BIOne Mixing System's bidirectional, variable speed, peristaltic pump, facilitate simple aseptic material transfers both into and out of the vessel.
Target Applications: Media preparation, buffer preparation, product pool (filtrate) collection and adjustment, final fill and formulation, and material hold validation studies.
To learn more about the new BIOne Mixing System, contact Distek Customer Service at +1 732 422 7585, email at bione@distekinc.com or visit www.distekinc.com.
ABOUT DISTEK, INC.
Distek engineers highly innovative, technically modern, and user-friendly instruments that provide many innovative features to customers, worldwide. These include water bath and bathless dissolution, media preparation and disposal, in-situ fiber optic UV, bathless tablet disintegration, content uniformity and dissolution autosampling. Distek's bioprocessing portfolio includes the BIOne single-use bioreactor for cell culture applications, the BIOne 1250 bioreactor control system for both mammalian and microbial models and now the BIOne Mixing System for upstream and downstream benchtop applications.
Distek's core market includes brand name, generic and biosimilar drug manufacturers, CRO's, CMO's, Nutraceuticals, government agencies and universities. Distek holds many instrumentation and accessory patents and has been ISO certified since 2002.