New Products from ERWEKA
Langen, January 20th, 2022 — ERWEKA GmbH is proud to start the year 2022 with two amazing new products - ERWEKA's first digital high-volume dissolution tester DT 9510, with its innovative AirLift system for easy raising and lowering of the dissolution head, and the new ZT 730 disintegration tester with AirBasket - ERWEKAs first cable-free disintegration basket with automatic determination of the disintegration time.
ERWEKA DT 9510 Series and automated sampling station with 14 temperature sensors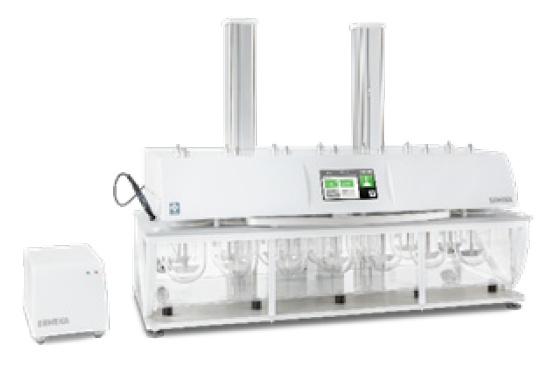 The DT 9510 Series is the first digital high-volume dissolution tester form ERWEKA. It is equipped with the same embedded technology as its smaller sibling DT 950, features multi-language support, networking printing, and fast and easy testing with the updated digital dissolution testing assistant, TestAssist. Furthermore, the optional AirLift system enables easy and safe motorized raising and lowering of the high-volume dissolution head. The DT 9510 comes with 12, 13, or 14 test stations, which can all be upgraded later, thanks to the upgrade-your-DT program already known from the DT 950 Series.
Together with the DT 9510 series, ERWEKA also releases two new automated sampling stations with integrated temperature sensors for each vessel. Both ASS-9 and ASS-18 with temperature sensors are fully integrated in the latest Disso.NET version and are supported by both the DT 950 Series and DT 9510 Series digital dissolution tester.
ERWEKA ZT 730 with AirBasket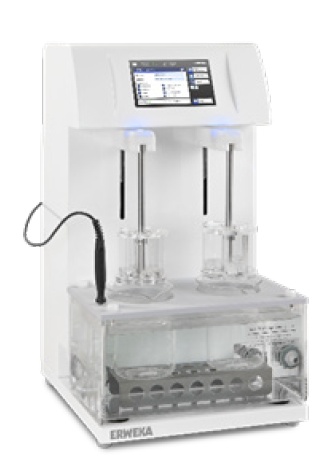 The new ZT 730 with AirBasket is ERWEKA's first cable-free disintegration tester with automated determination of the disintegration time. The completely reengineered AirBasket features corrosive resistant gold pins for automatic wireless transmission of the disintegration time. Thanks to its sealed electronic compartment, the new AirBasket is dishwasher proof and can be used in acidic media. Together with its cable-free connector, the new magnetic lock mechanism enables quick and easy setup of a disintegration test, saving time and money on mundane tasks. The ZT 730 is controlled by a 7" touch display and supports user and data management, and in combination with the AirBasket, enables hassle-free disintegration testing with automatic determination of disintegration time.
Availability, resources, and online demos
ERWEKA's DT 9510 Series and ZT 730 with AirBasket are available for order as of January 20th, 2022. Both new products also launch with user courses readily available in our online training platform ERWEKA Academy. For more information such as brochures, technical specifications, and videos, head over to our website: www.erweka.com.
We are also happy to show you the DT 9510 Series and ZT 730 with AirBasket in a live online demo - just contact your local ERWEKA sales representative or our sales team at sales@erweka.com.