Dissolution Technologies - Industry News August 2022 - RIGGTEK Dissolution Tester "Dissilio"
Martinsried/Munich, Germany - RIGGTEK is is proud to introduce the new Dissolution Tester "Dissilio".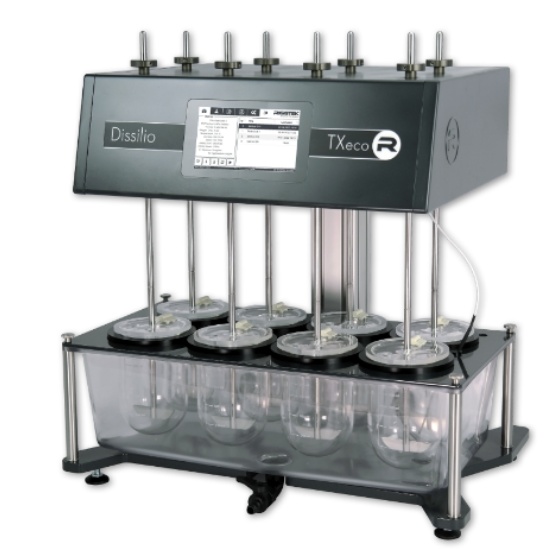 We have designed our dissolution tester "Dissilio" for you under the following premise:
SIMPLY SMART - MAKE YOUR EVERDAY WORK EASIER
This means that the Dissilio is aiming towards simplifying your everyday work through clever solutions.
One of the SIMPLY SMART features is the standard "Browser Interface", which allows for comfortable operation of your Dissilio simply via your web browser without any additional software installation (in addition to using the intuitive touchscreen). This enables you to supervise the current status of a running test or to manage methods, reports, and more conveniently from your computer.
Additional SIMPLY SMART features like the centering rings or the integrated drawers for paddles, baskets, and other accessories make the use of the Dissilio easy and functional.
Many users are afraid of time consuming cross-validations when they change to a new brand of dissolution tester, but the possibility to use vessels from various manufacturers is another SIMPLY SMART feature that makes cross-validation only a formality when switching to the Dissilio.
With all kind of accessories, 6-16 vessel positions, and optional firmware packages, you can configure your Dissilio individually and flexibly according to your needs.
SIMPLY SMART features are complemented with the robust design made in Germany and Quality standards according to ISO 9001: 2015. Of course, the current specifications of the European, United States, and associated Pharmacopoeias are complied with as well.
To learn more about the new Dissolution Tester Dissilio, explore RIGGTEK at
www.riggtek.com
or contact us at
sales@riggtek.de
.
ABOUT RIGGTEK GmbH
RIGGTEK is in the dissolution business for more than 25 years and is known for its Dissolution Media Preparation System "DissoPrep". With precison, passion, and ISO-certified quality made in Germany, we provide innovative and smart dissolution instruments to our international customers.