Senior Appointments at Copley Signal Start of New Phase of Growth
03 January 2023; Nottingham, UK: Copley begins 2023 with news of two key appointments to the senior team: Jamie Clayton as Managing Director and Matthew Fenn as Head of Business Development. The appointments follow a period of sustained growth for Copley, which ended 2022 as Nottinghamshire Business of the Year winners, and reflect ambitious plans for the future.
Known across the pharmaceutical industry for his role in propelling the FT4 Powder Rheometer to global prominence, Clayton brings complementary knowledge and widely respected expertise to the top table. With close to 20 years of experience in the healthcare sector, Fenn will focus on customer needs, advancing education and training opportunities and delivering ever more innovative product and service solutions.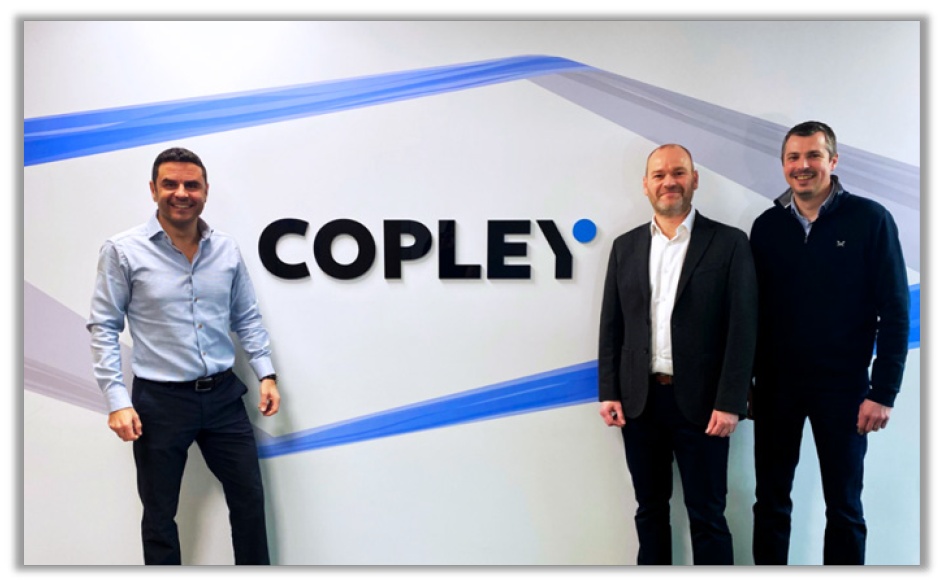 "Copley has grown substantially over the last five years," said Mark Copley, CEO, "and we continue to welcome new recruits at all levels to augment our well-established team. Securing senior talent is an essential element of our long-term strategy but relies on identifying experienced individuals that combine a 'Copley' mindset with complementary and relevant experience. Both Jamie and Matthew are an ideal fit and I'm excited to begin working with them."
As Managing Director, Clayton will manage all day-to-day operations at Copley from finance through to product development. A primary focus will be ongoing growth of the team and embedding the company culture, to ensure optimal practice and an exceptional customer experience as expansion continues.
"Jamie has a proven track record of company management, a customer-centric approach and in-depth technical expertise in all aspects of powder technology, from dry powder inhaler formulation to tablet manufacture," said Mr Copley. "His appointment is a major boost for Copley that will release me to explore and progress new investment opportunities and strategic partnerships, a vital element of our ongoing plans."
Fenn joins Copley from Jabil, the world's largest manufacturing solutions provider for the healthcare industry with experience that includes a long spell at 3M Health Care. With a background in medical devices, pharmaceutical delivery systems and consumer health products, Matthew is well-equipped to help Copley to define needs, refine services and set new goals for innovation.
"Matthew's key objective is to build the business development team and customer relationships that we need to drive growth," said Mr Copley. "The aim is to get closer to our customers to understand exactly what they need to succeed and how best to deliver it. Copley is growing by remaining true to our core enduring values and at the same time open to new thinking. Both Jamie and Matthew can be sure of the warmest of welcomes and an exciting time ahead."
About Copley Scientific
Copley Scientific is widely recognised as the world's leading manufacturer and supplier of inhaler test equipment and is a major provider of testing systems for other pharmaceutical dosage forms. The company also supplies equipment for detergent testing.
Copley's pharmaceutical product range includes test equipment for all types of orally inhaled and nasal drug products - metered-dose inhalers, dry powder inhalers, nebulisers and nasal sprays - with a particular focus on solutions for delivered dose uniformity and aerodynamic particle size distribution measurement. It also includes testers for tablets (dissolution, disintegration, friability and hardness) capsules, powders, suppositories, semisolids and transdermals.
Used from R&D through to QC, this extensive range of equipment is supported by a full validation and aftersales service. Copley works in partnership with specialist distributors to extend localised support across the world. This network provides expert help and training to every customer, directly enhancing the application of all Copley products. www.copleyscientific.com
Press information/Company contact:
Rosanna Kelly, Marketing Manager, Copley Scientific Limited
Colwick Quays Business Park, Road No. 2, Nottingham, NG4 2JY, UK
Tel: +44 (0)115 961 6229
Fax: +44 (0)115 961 7637
r.kelly@copleyscientific.co.uk
www.copleyscientific.com