Upcoming Audit? Get Prepared with the New Dissolution Workstation
The new Agilent Dissolution Workstation software can help you meet your regulatory requirements. This paperless, compliant solution organizes all your dissolution methods and test data while controlling access and preventing unwarranted changes or errors. There's no easier way to satisfy the necessary requirements for data storage and traceable records than this easy-to-implement software solution.
Better organization
Store each of your dissolution methods as well as your instrument and accessory information in a single, secure database. This database can be maintained locally on a workstation PC in the laboratory or located on a network server.
The software contains a filtering mechanism that may be used to recall test data from a particular date range, instrument, or the unique report ID number. This makes it simple to find specific data, which is especially useful in an audit situation.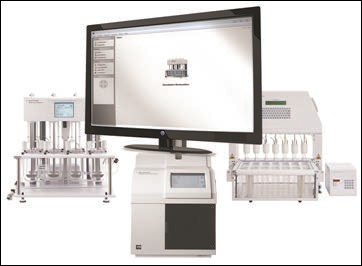 Time for compliance
Dissolution Workstation software is designed to facilitate operation in a 21 CFR Part 11 environment. The built-in features limit unwarranted changes or access to files or tests by using exclusive user groups based on integrated Microsoft Windows security. All system activity is traceable, with system and security audit trails that can be recalled, displayed, and printed using the standard reporting structure.
What logbooks?
The trend toward a 'paperless' environment continues to grow, and Dissolution Workstation software can get you there in a hurry. By eliminating the redundant task of manual documentation for each dissolution test, the software provides immediate time savings and unmatched traceability.
Don't wait for a 483 or Warning Letter to begin the process of migration and compliance. Dissolution Workstation software meets the industry standards for data security, audit trails, electronic records, and signatures and Agilent can help put you on the path to making your laboratory inspection-ready.
Request a personal demonstration by contacting your Agilent representative or dissolution.hotline@agilent.com.
Dan Spisak, Product Manager, Dissolution
Learn more: www.agilent.com/chem/dissolutionsoftware