850-DS 8-Channel Filter Plates
AGE Whatman has increased its offering of 8-channel filter plates for use in the Agilent 850-DS autosampler and now offers a variety of filter plates with a pore size of 0.2 µm.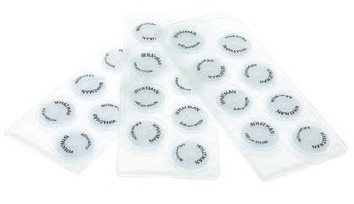 Analysis of dissolution samples is increasingly carried out by HPLC and UHPLC. To protect the even more sensitive UHPLC columns from potential blockage with particles and to respond to the requests from our customers, Agilent Technologies recently requested the development of filter plates with 0.2-µm pore size from GE Whatman.
The current portfolio of 0.7-µm and 0.45-µm pore size filter plates now includes 0.2-µm pore-size filter plates with membrane materials of nylon, PTFE, PVDF, and PES.
An overview of the full range of filter plates that are now available from GE Whatman can be found in the table below. Please visit www.gelifesciences.com for more information, especially on the chemical resistance of the filter materials.
Part Number
Membrane &Pore Size (µm)
Product Material
7707-3000
0.45 PTFE Polytetrafluoroethylene
7707-3100
0.45 NYLON
Nylon
7707-3200
0.45 PES
Polyethersulfone
7707-3700
0.45 PVDF
Polyvinylidene fluoride
7707-3300
0.7 GMF
Glass Microfiber
7707-3400
0.2 PTFE
Polytetraflouroethylene
7707-3500
0.2 NYLON
Nylon
7707-3800
0.2 PVDF
Polyvinylidene fluoride
7707-3600
0.2 PES
Polyethersulfone
Dissolution filter selection is dependent on the specific method and the drug formulation under test. The volumetric accuracy of the 850-DS is dependent on the membrane type, the pore size, and the cannula filter (Full Flow Filter) being used. The accuracy is also dependent on the drug product and its concentration, the excipient load, as well as the media. Other factors that can impact the volume accuracy are the prime volume, pumping speed, and dwell time, all of which can be controlled by the 850-DS.
The filter plates are designed to group the filters in a single manageable plate for ease of use and automation. Only the outer physical appearance was modified to a plate design; the internal product and contact components of the Puradisc filters remain unchanged. Whatman filters and filter plates are supplied by authorized GE Healthcare representatives worldwide. Each filter plate consists of eight individual 25-mm filters configured for use with the Agilent 850-DS filter changer option.
A useful guide for validating your choice of filters is available free of charge from Agilent. This document is available at www.agilent.com/lifesciences/filter_validation.
For more information on the 850-DS, contact your local Agilent representative.
For other dissolution-related questions, feel free to contact the Dissolution Hotline at idissolution.hotline@agilent.com.