ERWEKA Presented Three New Products at Analytica in Munich

June 30, 2016—ERWEKA, the premium brand for test equipment for the pharmaceutical and life science industries, presented three new products at this year's Analytica in Munich.
The new EasyCheck is a fully automated, entry-level, 5-parameter physical tester. The DT 1614 Dissolution Tester with 14 test stations was shown for the first time publicly, combined with a new space saving 14-channel piston pump PVP 1420 and a 14-channel fraction collector for automated high-volume sampling. And, as a world premiere, the well-established RoboDis II 40 Batches was shown for the first time to the public.
The new ERWEKA EasyCheck is a compact device for automated tablet and combination testing of up to five parameters. It is the first in the range of ERWEKA hardness testers that offers an integrated weighing cell, which allows fully automated weight measurement of samples with automated attribution to the right sample. Furthermore, thickness, diameter/length (oblongs), width, and hardness are tested.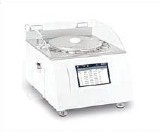 The new EasyCheck—automated 5-parameter testing made easy
The newly developed OblongSlider aligns evenly shaped oblongs for automatic width, length, and hardness measuring. Thanks to the user-friendly touch display, up to 100 products/methods can be stored and quickly tested. With several options such as storage for up to 1 million test results, the 21 CFR part 11 compliant audit trail, and export capabilities to CSV and XML format, the touch display is the quickest way to control the EasyCheck. The star-shaped rotary magazine handles 20 samples in one test run, which can be manually extended to 100 samples.
The EasyCheck is offered in two configurations: EasyCheck Basic is the ideal device for automated 4-parameter testing of round tablets. EasyCheck Pro with the OblongSlider increases the parameter count to five and enables testing of evenly shaped oblongs.
The PVP 1420 is ERWEKA's new maintenance-free, 14-channel piston pump for high-volume dissolution systems.
Specifically designed for highest accuracy, the PVP 1420 also sports a new, spacesaving double-decker design. It is completely plug & play and fully controlled by the connected dissolution tester or the Disso.NET dissolution software. In conjunction with a dissolution tester, DT 1614 (for Offline Systems) or DT 1414 (for Online Systems), the PVP1420 enables high-volume dissolution testing with 14 tests per run.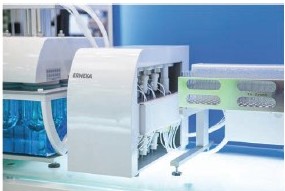 PVP 1420—space saving maintenance-free precision pump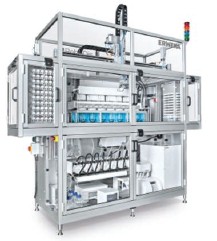 World premiere: RoboDis II 40 Batches— a quantum leap in dissolution productivity
For the first time, ERWEKA's RoboDIs II was shown in public with a 40-batch magazine for high-volume dissolution testing. This fully automated dissolution system is already used in quality control by several multinational companies and has brought a huge increase in productivity. It automatically handles 40 batches of dissolution testing UPS method 1 basket or method 2 paddle in a parallel approach, which enables very short sampling times of 5 minutes depending on product and method. As with all ERWEKA products, the RoboDis conforms 100% to all harmonized pharmacopeias.
All steps of the dissolution process—media preparation, filling, setup of dissolution tester, testing, automated sampling, online analytics (UV/VIS or HPLC), and the entire cleaning process—are performed without the need for user intervention. The whole system is controlled by the ERWEKA Disso.NET software, which controls the precise robotic arm performing the tasks.
Supported by several integrated system suitability tests (SST) and light sensor checks, this system runs with absolute precision and reliability, minimizing human error. It is human-error proofed, so to speak.
About ERWEKA
ERWEKA GmbH is the premium international manufacturer of test equipment for the pharmaceutical industry. We supply tablet test equipment for large pharmaceutical and life science companies, research and test laboratories, and universities all over the world. Founded in Germany in 1951, ERWEKA is the only manufacturer to offer a product for every required test for solid dosage form drugs. Today we are proud to have the most comprehensive product range and experience in our market sector. Our benchmark in all our doing is top quality. From engineering and design to manufacturing and product support, we take a no-compromise stance on standards.
ERWEKA stands for excellent product quality, attractive design, and bespoke customer support. Our clients have trusted us for 65 years.