Logan Instruments Corp. Introduces New Dry Heat Automated Topical and Transdermal System
Somerset, NJ-July 5, 2016—Logan Instruments Corp., a leader in providing topical and transdermal testing instrumentation, introduces its latest automated system, the System 914. The System 914 combines the features of the DHC-6T, a waterless system, with a new automated sampling system where the syringe pump takes samples from the cells to a sample collector using program parameters selected with the sampling controller. The System 914 combines the DHC-6T with syringe pumps, sample collector, and sample controller to automate sampling. Samples can be removed from the cells either completely or partially.
The Automated System 914 uses a heating block to warm the cells with the same temperature accuracy as a heater/circulator. This is beneficial for the scientist because it preserves lab space and eliminates some maintenance. There is also an economic advantage, in that end users do not have to pay for a heater/circulator or blown glass/ man-made cells.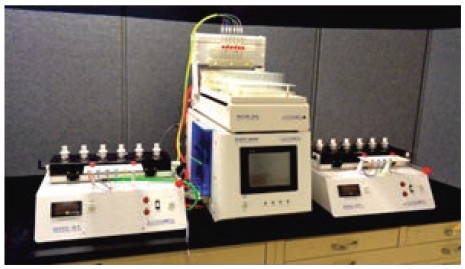 All the great features and the patented autolifting console are included in the System 914, where media will be refilled while the cells are at 45 °C so that air bubbles will be purged from the cells, making complete contact between the medium and the membrane.
Logan Instruments Corp.'s President, Luke Lee, states, "This new automated sampling system eliminates human error and increases data repeatability with the bubble-purging console. This new system is economical because cell volumes can be easily replaced with the size of the glass tubes, which are part of the new diffusion cell design."
For more information, please contact us at info@loganinstruments.com.
To learn more about Logan Instruments Corp.:
Jensen Lee
Logan Instruments Corp.
19 Schoolhouse Rd.
Somerset, NJ 08873
Office: 732-302-9888
Fax: 732-302-9898
Jensen@loganinstruments.com