Agilent Dissolution Vessels—the TruAlign Difference
As the dissolution industry continues to trend toward mechanical qualification (MQ) and away from the USP Performance Verification Test (PVT), vessel quality is under more scrutiny than ever before. With no standardized chemical testing, how are vessel irregularities—most of which are invisible to the naked eye—detected?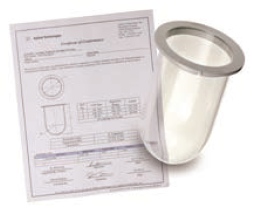 Regardless of your qualification procedure or daily dissolution testing needs, Agilent's dissolution vessels are the preferred choice to ensure consistent, repeatable results with limited variability. The high-quality TruAlign vessels used for the 708-DS Dissolution Apparatus are manufactured to the same time-tested standard of the past VanKel and Varian vessels. In addition, a collar is incorporated onto the vessel to maintain accurate centering and verticality alignment with the dissolution apparatus. An indicator tab on the collar provides reproducible vessel orientation while the serial number offers easy identification.
A wide variety of sizes are available to provide ultimate flexibility. TruAlign vessels for the 708-DS are available in 100- and 200-mL, as well as 1- and 2-L sizes. A custom 5-L 708-DS is also available for even larger volume applications.
Conversion between the larger and smaller volume sizes requires no special tools and can be easily performed by the user. Low actinic (red), Peak, and Verified versions are also available for select volumes. The Verified vessels include an individual Certificate of Conformance that documents the exact measurements of the vessel as required by enhanced mechanical calibration procedures.
VF Molded TruAlign Vessels
Agilent also offers molded TruAlign vessels, which are vacuum formed (VF) and provide the tightest precision available to reduce position-to-position variability and improve uniformity. With specifications over 10 times more stringent than standard vessels, this option eliminates inconsistencies and puts the focus on the dosage form. The VF vessels are offered as 1-L clear glass only and are available with or without a Certificate of Conformance. The precision of these vessels is an ideal way to reduce a coefficient of variation and overcome inherent irregularities that may otherwise go unnoticed. For more information on VF vessels, be sure to read through the technical overview at www.agilent.com/lifesciences/vfvessels.
Subscribe to Agilent's Practical Solutions Newsletter for additional content about this and other relevant industry topics (http://www.agilent.com/en-us/promotions/practical-solutions). Visit www.agilent.com or contact your Agilent representative for more information about available dissolution vessels. You may also contact us at the Dissolution Hotline—dissolution.hotline@agilent.com—to speak with one of our dissolution experts.