Agilent Online UV Dissolution Software Updates
Agilent's Cary 60 and Cary 8454 UV-vis spectrophotometers are ideal for online UV dissolution systems. Easily pair a 708- DS Dissolution Apparatus with either spectrophotometer for a single-source UV dissolution testing solution. Multicell or fiber-optic-based systems are available, each providing specific benefits depending on the end-user environment. Both the Cary WinUV and UV-ChemStation software platforms have been updated to strengthen these automated testing solutions.
Cary WinUV Dissolution Software—for use with Cary 60 UV-vis spectrophotometer:
Supports 708-DS Dissolution Apparatus in single or dual-system configurations
Utilizes either a peristaltic pump or 850-DS Sampling Station for multicell systems
In situ sampling using fiber-optic technology is also available
Now supported using Windows 10 operating system
Advanced 850-DS features added included automated system cleaning
UV-ChemStation Software—for use with Cary 8454 UV-vis spectrophotometer: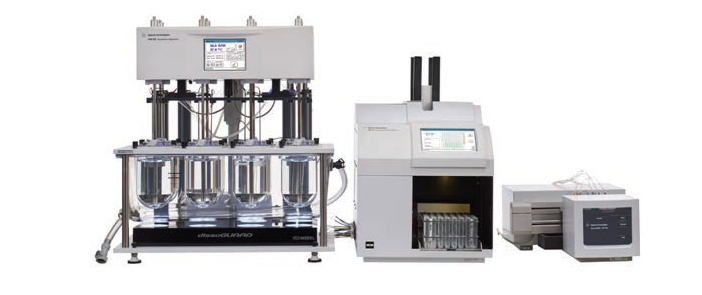 Supports 708-DS Dissolution Apparatus in single or multi-bath system configurations
Utilizes a peristaltic pump for multicell or valve-based systems
Now validated for Windows 10 operating system with enhanced compliance software
NEW! Supports configuration using 850-DS Sampling Station
Advanced filtration capabilities using 0.45- or 0.2-micron pore sizes
Online UV-vis analysis plus sample collection for archival or offline LC analysis
Automated cleaning of system with no user intervention
Subscribe to Agilent's Practical Solutions Newsletter for additional content about this and other relevant industry topics (http://www.agilent.com/en-us/promotions/practical-solutions). Visit www.agilent.com or contact your Agilent representative for more information about available Agilent online UV-Dissolution systems.