Teledyne Hanson Research Releases Vision Protocol Manager
For dissolution labs running Vision equipment, Hanson's new software manages all instruments, users, and protocols in a single desktop view.
Los Angeles, CA—March 1, 2017—Teledyne Hanson Research today announced the release of Vision® Protocol Manager™ (VPM), an Ethernet-connected, Windows-based software designed to increase productivity in dissolution labs running Vision instruments. VPM eliminates all connectivity and storage limits by connecting Vision systems to a centralized database with unlimited data capacity, a spacious, easy-to-use interface, drag-and-drop simplicity, and increased support for 21 CFR Part 11 compliance.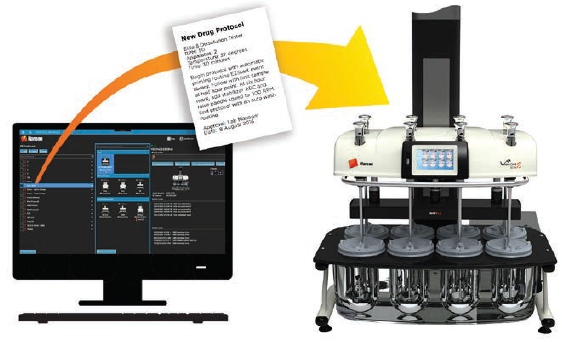 VPM manages an unlimited number of instruments, protocols, test reports, user groups, and authorized users in one desktop view. Instruments are added to the network simply by entering their serial numbers and IP addresses, with VPM automatically detecting each system's components and characteristics. Writing and validating dissolution testing protocols is faster and easier as potential timing conflicts are automatically detected and are rapidly resolved through VPM's illustrated, context-sensitive help.
"Our goal in developing Vision Protocol Manager was to support Hanson customers with the tools needed to reach higher levels of productivity, data integrity, and regulatory compliance," explained Keith Hamman, President and General Manager of Teledyne Hanson Research. "With VPM's highly intuitive, easy-to-use interface, dissolution labs can enjoy higher security and more efficient workflows."
With VPM's emphasis on data integrity and regulatory compliance, data transfers to and from Vision instruments are validated by local network protocols; test reports are documented with dual electronic signatures and automatically archived; and an extensive audit trail records all changes to protocols and user permissions. Archived test results cannot be altered, and when a protocol is deleted, the version stored with the archived test run is fully maintained. For further details, including a video demonstrating VPM's key features and capabilities, please visit hansonresearch.com/dissolutiontesting/protocol-manager/.
ABOUT TELEDYNE HANSON RESEARCH
Teledyne Hanson Research specializes in the design and manufacture of precision analytical instruments used in pharmaceutical and nutraceutical manufacturing, research, and quality control. Hanson Research was founded in 1951 by Bill Hanson, the innovator of modern six-vessel dissolution testing. Hanson's Vision® series of testers, autosamplers, and related accessories are today used by scientists in more than 75 countries supported by a global network of service engineers. Hanson Research was acquired by Teledyne Instruments in December 2016. For further information, please visit hansonresearch.com.

CONTACT
John Simmons
Teledyne Hanson Research
pr@hansonresearch.com