Agilent's Dissolution Workstation Goes Remote
As the need for a truly compliant solution in the lab grows, it's important to consider new ideas and inspect the data gathering environment as a whole. Dissolution testing is often performed in an isolated setting - free from analytical instrumentation -and is regularly overlooked when it comes to data integrity. This can be a costly mistake.
The dissolution environment can get a little untidy with all the filling/emptying of vessels, sampling, changing media, rinsing accessories, etc. These all present opportunities to, well, make a mess. The apparatus itself is designed to withstand a good bit of exposure to these activities on a daily basis, but another component is appearing now more than ever in this space typically reserved for lab supplies - the PC.
Compliance related to 21 CFR Part 11 focuses primarily on the security of electronic records, attribution of work, and electronic signatures. While every "system" - be it hardware, software, firmware, etc. - has its own tools to facilitate a compliant environment, a software solution is universally accepted as the easiest to implement.
For this reason, Agilent's Dissolution Workstation Software has taken the need for the PC - your software-based, compliant solution - out of the cluttered dissolution environment. The latest version of software introduces a way to conveniently maintain all your critical dissolution information from outside the laboratory. You can even load your method and start your test remotely from any network PC.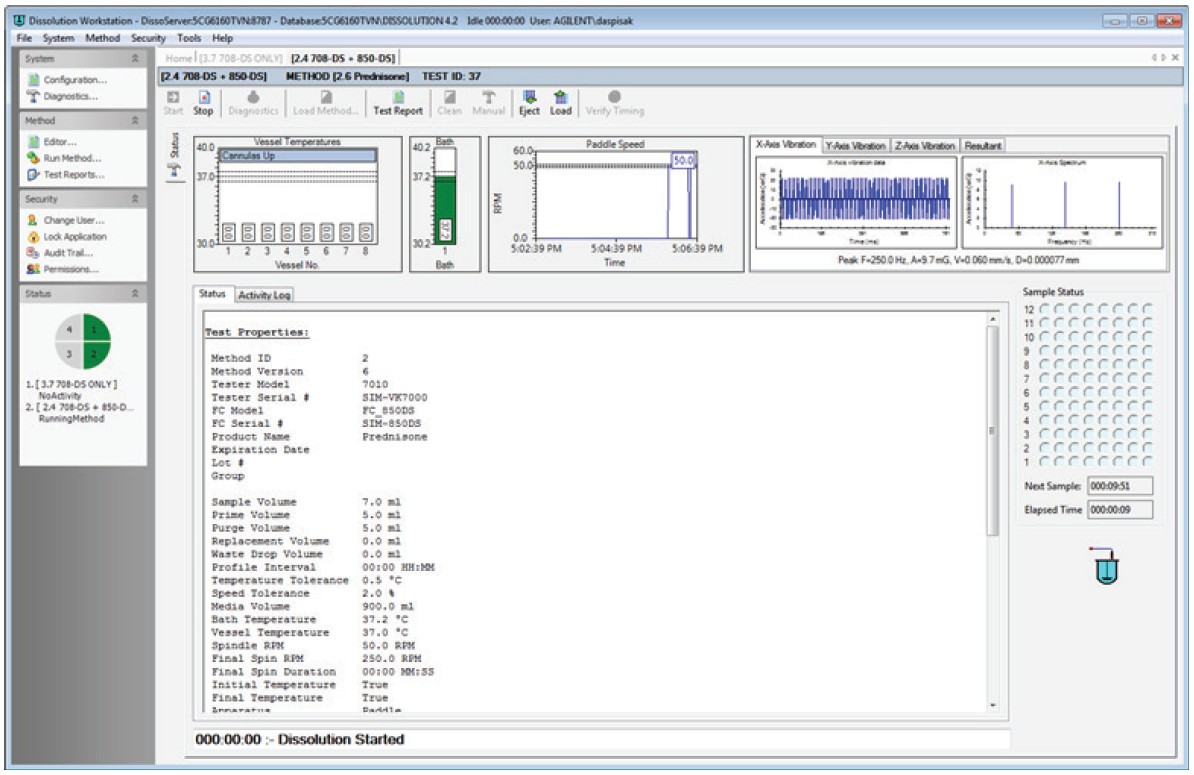 It works like this from any workstation on your network (e.g., outside the laboratory):
Open and log in to Dissolution Workstation software with the proper credentials.
Recall previously created system and method files for the test to be performed.
Enter any relevant product information and press start to initiate the test.
Move to the location of the 708-DS Dissolution Apparatus (i.e., into the lab).
Ensure the apparatus is prepared accordingly (physical parameters, media, environment, etc.).
Press START on the 708-DS.
By creating a PC-free dissolution environment, you eliminate the chance of catastrophe and enhance compliance, organization, and overall data integrity. This latest software update incorporates the following enhancements:
Windows 10 compatibility
Links to individual Certificates of Conformance for accessories
Expanded report filtering criteria
Remote start capability
Sample timing integrity check
System enhancements for manual 708-DS systems
Contact your Agilent representative for more information about Dissolution Workstation software. You can also send a message to Agilent's experts at dissolution.hotline@agilent.com to request a personal demonstration of the software and any other Dissolution products.
About Agilent Technologies
Agilent Technologies Inc. (NYSE: A) is a global leader in life sciences, diagnostics and applied chemical markets. With more than 50 years of insight and innovation, Agilent instruments, software, services, solutions, and people provide trusted answers to its customers' most challenging questions. The company generated revenues of $4.47 billion in fiscal 2017 and employs 13,500 people worldwide. Information about Agilent is available at www.agilent.com.