Simulations Plus Launches Version 2.0 of PKPlus
Major update to preclinical and clinical trial data analysis software addresses user requests
Lancaster, CA—April 5, 2017—Simulations Plus, Inc. (Nasdaq: SLP), the premier provider of simulation and modeling software and consulting services for pharmaceutical development from earliest discovery through all phases of clinical trials, announced the launch of version 2.0 of PKPlus, a major update to its software for analysis of preclinical and clinical trial data.
Mark Pflieger, Product Manager for PKPlus, said: "From our initial release of PKPlus version 1.0 in August 2016, we have paid careful attention to the feedback given by our customers and prospects. With their guidance and suggestions, and in close collaboration with our colleagues at Cognigen, we now have PKPlus version 2.0, which contains many new features and improvements."
New features and enhancements of PKPlus 2.0 include:
Non-parametric superposition (NPS)
Compartmental multi-dose simulation
Command line version (for fast, automated validation checks)
The ability to save map/report settings for use in other projects
Improvements to plotting and custom reports
Additional workflow refinements
John DiBella, President of Lancaster division, added: "PKPlus continues to be the most affordable, commercially supported PK modeling platform in the marketplace, and we have decided with this new release to offer it to academic institutions at no cost to invest in the next generation of researchers who will be advancing the science of simulation and modeling. PKPlus v2.0 meets the requirements of a validated PK software, combining sophistication and 'plug and play' simplicity, at a fraction of the cost of competing tools. As more scientists work with the program, we'll continue to listen and respond to update features and capabilities."
Simulations Plus hosted a webinar on Tuesday, February 20th to discuss the exciting new features in PKPlus 2.0. The webinar replay can be viewed here: www.simulations-plus.com/webinars/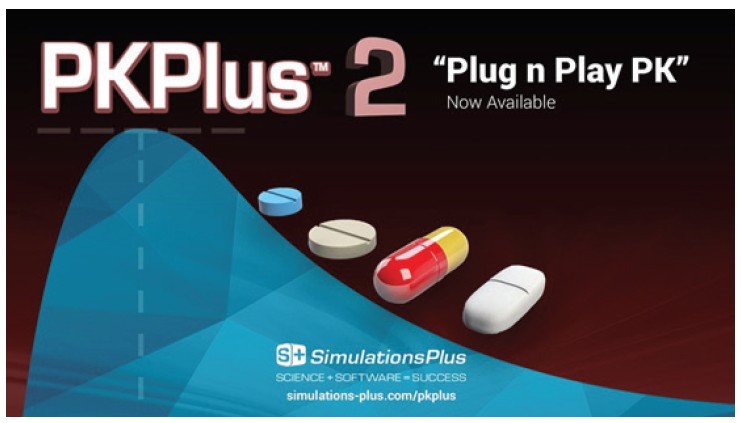 About Simulations Plus, Inc.
Simulations Plus, Inc. is a premier developer of drug discovery and development software as well as a leading provider of both preclinical and clinical pharmacometric consulting services for regulatory submissions and quantitative systems pharmacology models for drug-induced liver injury and nonalcoholic fatty liver disease. The company is a global leader focused on improving the ways scientists use knowledge and data to predict the properties and outcomes of pharmaceutical, biotechnology, and chemical agents. Our software is licensed to and used in the conduct of drug research by major pharmaceutical, biotechnology, chemical, and consumer goods companies and regulatory agencies worldwide. Our innovations in integrating new and existing science in medicinal chemistry, computational chemistry, pharmaceutical science, biology, and physiology into our software have made us the leading software provider for physiologically based pharmacokinetic modeling and simulation. For more information, visit our website at www.simulations-plus.com.