Logan Instruments Exclaims, "Enter the Dragon!"
The Chinese Zodiac calendar may be looking at 2019 as the year of the Pig, but Logan Instruments sees it differently. They are proudly launching a state-of-the-art sampling system set to revolutionize the industry. With a robotic sampling arm, the Dragon 12 solves issues that scientists have been needing help with for quite some time when it comes to sample extraction. First, the system is all-in-one. This compact piece of instrumentation will save labs valuable bench space because of its configuration. Secondly, human error will be virtually eliminated because of the precise design of the sampling measuring tool. This will give accurate sample sizes from each cell. Finally, this system is safe to use with certain types of media that are irritating or even toxic when in contact with skin, eye, or other human orifices.
Logan Instruments also added a coating and drying system (C&D 360) for small scale production of transdermal patches in the lab. It accomplishes both processes in approximately 30-60 minutes. It includes an air filter for odor removal, and it is the most economical system of its kind on the market. Both systems were proudly unveiled at PharmaSci360 (AAPS) during the first of week November in Washington, DC.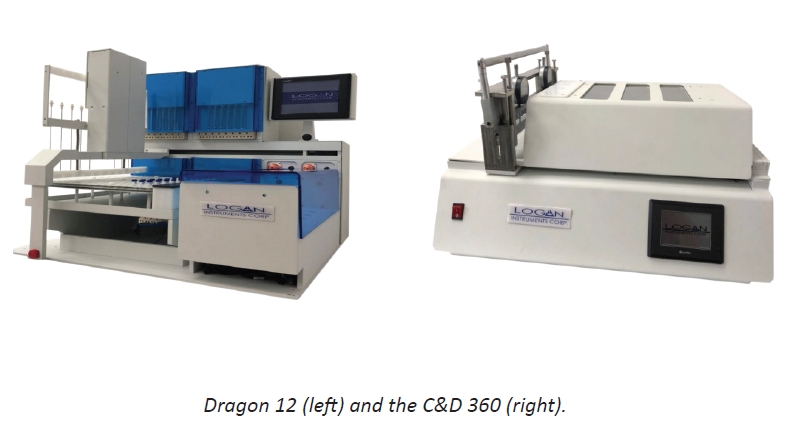 In 2018, Logan was present at multiple conferences, both large and small. In September, they showcased their latest dry heated transdermal/topical sampling system (DHC-6TD) at the Transdermal and Intradermal Conference in downtown Philadelphia. In October, Logan had a large a multi-table exhibit at the Rutgers University's Center for Dermal Research's Annual Conference in Iselin, New Jersey. Finally, in November, Logan Instruments made a huge splash at PharmaSci 360 to highlight their tried-and-true dissolution systems for method development and launch new systems, which were mentioned in the August issue of Dissolution Technologies.
Please contact Logan Instruments for more information at
info@loganinstruments.com