Pharma Test and Fraunhofer IME Announce the Dispersion Releaser - a Solid Testing Apparatus for Nano- and Microformulations
Hainburg, Germany: The Fraunhofer Institute for Molecular Biology and Applied Ecology IME together with the Goethe University Frankfurt/Main and Pharma Test have developed the new Dispersion Releaser (PT-DR) apparatus for a standard dissolution tester to provide a solid system for the release testing of nanomedicines, microformulations, and semi-solid dosage forms.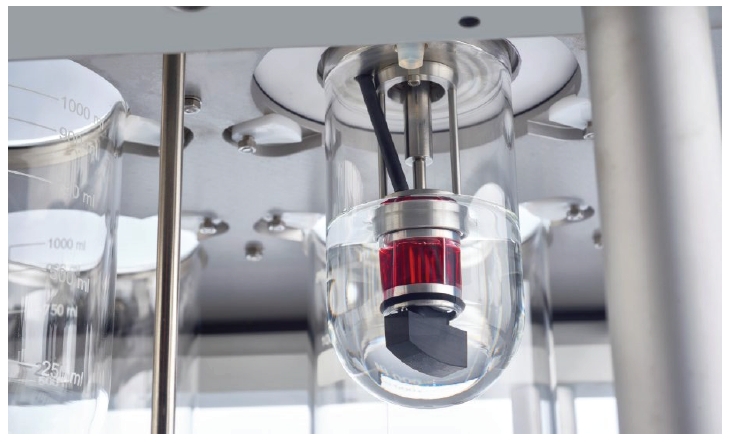 Dispersion Releaser in a dissolution tester with its donor compartment filled with a colored suspension and separated by a membrane from the acceptor compartment
A Growing Need for Reliable Standard Procedures
Since a rising number of pharmaceuticals and medical devices take advantage of nanotechnologies, there is a growing need for procedures assuring their quality and safety. Until today there is no international regulation for the release rate test (dissolution test) of nanomedicines. Authorities are currently working on new monographs for standardized nanomedicine quality control tests.
Developing the Dispersion Releaser PT-DR
The Fraunhofer IME together with the Goethe University Frankfurt/Main under the leadership of Dr. Matthias G. Wacker developed the Dispersion Releaser technology. With Pharma Test, a global leader in the field of testing equipment for the pharmaceutical, food and cosmetics industry, they found an ideal associate to improve and distribute this new development for the international market. The Dispersion Releaser is a dialysis-based device to test the dissolution rate of dispersed dosage forms using a standard USP tablet dissolution tester.
"In our trials we could already prove that by using the Dispersion Releaser you'll get much more reproducible results compared to the currently used methods.", states Dr. Wacker who was recently appointed an associate professor at the National University of Singapore where, in an international collaboration, more applications of this new technology will be explored. "We have seen remarkable outcomes with liposomes, micro- and nanoparticles and will now explore more applications of this disruptive technology in formulation development and quality control."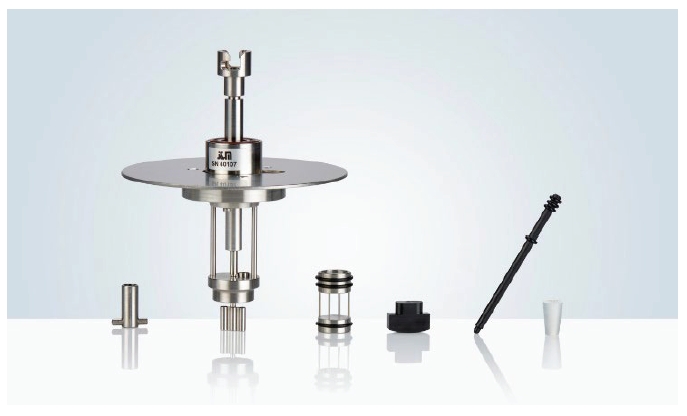 Dispersion Releaser separated into its removable parts
An Ideally Designed Apparatus for the Release Testing of Nanomedicines
The system consists of a donor and acceptor chamber which is surrounded by a membrane. Both chambers are agitated. This specific design allows controlling the shear forces applied to the nanoformulation while achieving a more rapid membrane transport compared to other setups. The Dispersion Releaser can also be used to check the release rate of semisolid and other dosage forms in a much more reproducible way compared to other dissolution apparatuses.
Compatibility and Availability
The Dispersion Releaser PT-DR is compatible with all Pharma Test PTWS dissolution testers and also with each standard dissolution testers on the market. The PT-DR is available for test trials and sale through the Pharma Test distribution network. For more information visit the Pharma Test website at www.pharma-test.com or contact Pharma Test.
About Fraunhofer IME
The Fraunhofer Institute for Molecular Biology and Applied Ecology IME conducts research in the field of applied life sciences from a molecular level to entire ecosystems. The devision Translational Medicine and Pharmacology covers a wide spectrum of research and development services in the area of formulation development, preclinical and clinical research. It has close affiliations with the Institute for Clinical Pharmacology of Goethe University Hospital in Frankfurt/Main.
About Pharma Test
Since almost 40 years Pharma Test has been a worldwide household name for the development and production of high-value test devices and systems for the quality control in the pharmaceutical, food and cosmetics industry as well as for universities and public authorities. We offer a complete product range from manual instruments for physical testing to fully automated online dissolution testing systems to analyze the active chemical composition of a dosage form as well as its release rate. With our "Made in Germany"-label "The German Gründlichkeit" you can expect well thought-out, long-lasting, user-oriented products and solutions.
Contact
Pharma Test Apparatebau AG
Head of Product Management: Dr. Dirk Beilke,
d.beilke@pharma-test.de
;
sales@pharma-test.de
;
Press Contact: Ms. Oanh Hoang
o.hoang@pharma-test.de
;
marketing@pharma-test.de
;
Siemensstr. 5, 63512 Hainburg, GERMANY
T: +49 6182 9532-600
www.pharma-test.com
THE PHARMA TEST GROUP