Official Inaugural Ceremony of ERWEKA's new Headquarters
Highest quality, state-of-the art production, modern open space offices and sustainable thinking.
ERWEKA GmbH, founded in 1951 and privately owned and managed by its owners, Claudia and Werner Mueller, is the international pacesetter for automated testing equipment for the pharmaceutical and life sciences industries.
End of March 2019, the company moved to its new headquarter in Langen, Germany. The new building, offering twice as much space as before, is laying the foundation for further growth and development of the company. It offers a prime location in a city just 10 minutes from the Frankfurt airport - an important factor for its international trainings and education center, based in a modern surrounding, offering opportunities to dealers and customers alike. With its stateof- the-art production equipment and modern, collaborative workspaces, the new headquarter is part of ERWEKA's future strategy to deliver next-generation products to its customers all over the world.
The official Inaugural Ceremony will take place on the 30th of August 2019, where CEO Claudia Mueller and the mayor of the city of Langen, Mr. Gebhardt, will welcome invited guests from all over the world.
Before the official opening speeches, guided tours provide guests with the opportunity to experience the well-designed building with its modern production areas and its agile development department themselves. Expert discussions and personal talks with staff and management illustrate the open atmosphere of the new building and international culinary art ensures that their physical well being is taken care of.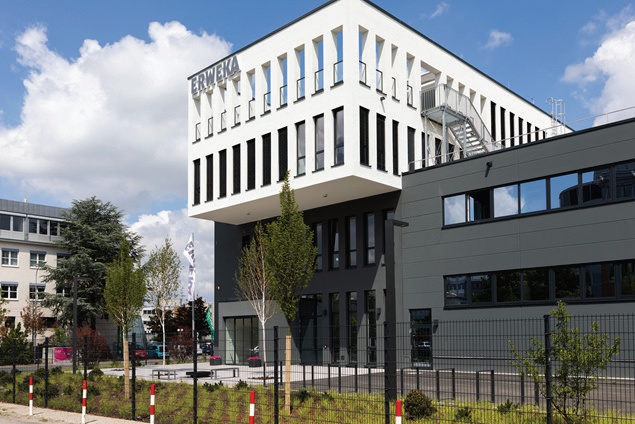 ERWEKA GmbH
Pittlerstr. 45
63225 Langen,
Germany