Logan New Economical Transdermal Diffusion Cell Drive Consoles
Logan Instruments strives to deliver only the best design and provide the most careful and satisfying customer experience to our customers. We are proud to announce a unique addition to the transdermal diffusion cell systems family - the LOGAN "E" series - Economical Transdermal Diffusion Cell Drive Consoles. The biggest advantage of the Logan E series is that customers purchase only one unit, rather than a multi-part unit.
The LOGAN E series (also known as "full unit" versions) is revolutionary from previous models, because the unit utilizes drive consoles with built-in water heaters.
The LOGAN E series models feature a water-jacketed transdermal diffusion cell system paired with built-in heater circulators for temperature control. The circulation pump constantly moves the water flow from the water tank to the cells. The temperature can reach from room temperature to 32 °C within 5 minutes and can be circulated to keep the desired temperature. Each model has two-zones with three cells per zone. All E series models stirring speeds are 600 ± 1 rpm; as per USP General Chapter 1724 requirements.
LOGAN E series transdermal diffusion cell drive consoles include 4 models, pictured below.
FDC-6E has 6 vertical cells.
FDC-12E has 12 vertical cells.
SDC-6E has 6 side-by-side cells.
SFDC-6E has 3 vertical cells and 3 side-by-side cells.
Such systems are designed for testing semi-solid dosage or transdermal patched permeation (IVPT / IVRT), which can also be used to examine different absorption results based on drug ingredients.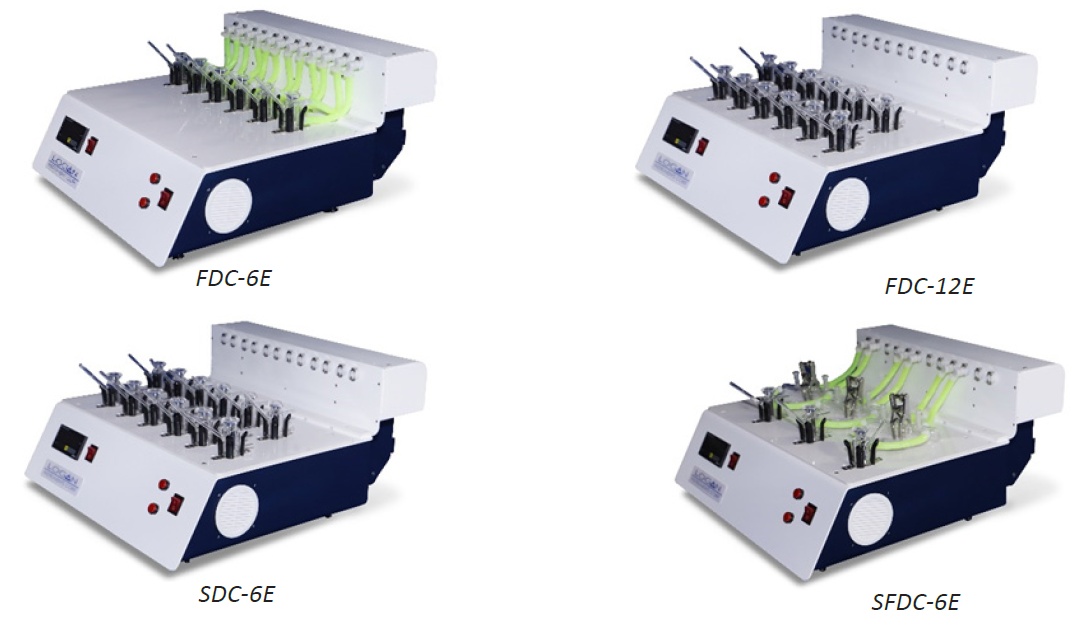 For more information please contact info@loganinstruments.com
19-C Schoolhouse Road, Somerset, NJ
Phone: 732.302.9888
www.loganinstruments.com