Applications Expanded for Agilent 400-DS
With the development of novel dosage forms, dissolution testing requirements for combination medical devices becomes continually more important. While initially designed for the testing of drug-eluting stents, the Agilent 400-DS has evolved to fulfill requirements. It can test products including medicated contact lenses, pacemaker leads, implants, and polymeric rings. As many of these tests are performed over long time periods, the 400-DS combines the traditional USP apparatus 7 requirements with innovative design attributes that make it ideal for such experiments.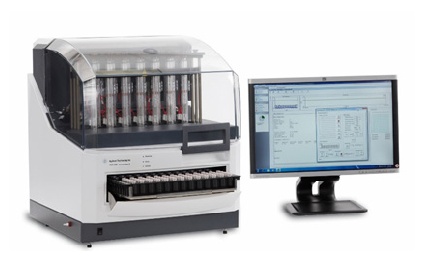 Small volume dissolution (5 or 10 mL) with media change flexibility—low amounts of API released over an extended time requires concentrations to be maintained at an acceptable level of detection
Evaporative control—sealed sample cells eliminate evaporative loss for the test duration
Solvent usage—certified for use with MeOH and EtOH as dissolution media
Temperature ramp capability—capable of performing accelerated dissolution studies to reduce overall testing time up to 55 °C
Custom holders—if none of the dozen current sample holders fits the application, Agilent offers investigative assistance to design a holder suitable for your specific product
Utilization of the 400-DS typically begins in an R&D setting in early stages of product or method development. The system allows for testing of as little as one or up to 13 samples per test with integrated automation capabilities to minimize manual intervention. Once the method is validated and the product is on the market, the compendial and compliant nature of this instrument eases the transition to the more regulated quality control laboratory.
A large part of this solution is the 400-DS Dissolution Workstation Software. The latest version, 1.7, has been updated to include enhanced e-signature capabilities and automated database backups. This makes it even more suitable for your 21 CFR Part 11-compliant environment.
Learn more about the latest improvements of this fully integrated, small - volume solution for your dissolution testing needs at https://www.agilent.com/en/product/dissolution-testing/dissolution-apparatus/400-ds-apparatus-7 or contact the Agilent team at dissolution.hotline@agilent.com to request a live consultation.
About Agilent Technologies
Agilent Technologies Inc. (NYSE: A) is a global leader in life sciences, diagnostics and applied chemical markets delivering insight and innovation toward improving the quality of life. Agilent instruments, software, services, solutions and people provide trusted answers to customers' most challenging questions. The company generated revenue of $5.34 billion in fiscal 2020 and employs 16,400 people worldwide. Information about Agilent is available at
www.agilent.com
. To receive the latest Agilent news, subscribe to the Agilent Newsroom. Follow Agilent on LinkedIn, Twitter, and Facebook.