Automated USP 4 UV Online System, System ADR III-7, and Permetro 3700
Logan Instruments is proud to present the 4000 UV Online System. The System 4000 Online consists of six essential devices based on the Disso 4000. It is a USP apparatus 4 automated with a system controller and sample collector. One of the many applications worth mentioning is the system's capability to test injectables. The dissolution profile below was generated by the System 4000.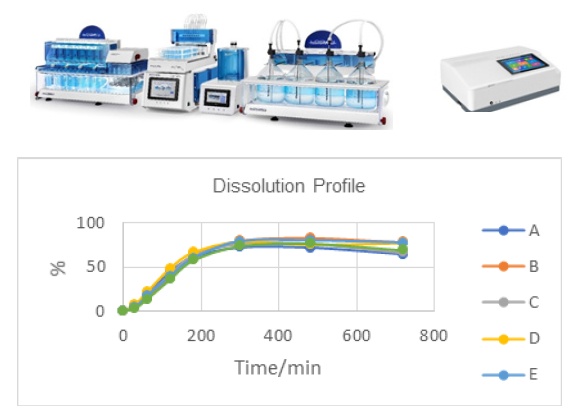 Logan Instruments' Permetro 3700 is specifically designed to study drug permeation under different pH levels in addition to parallel dissolution/permeation tests. The main features include the ability to compare permeability of control release products and obtain dissolution and permeation rates at the same time. The dissolution and permeation profile was generated using the Permetro 3700. Logan's Permetro System is the most advanced in the pharmaceutical industry, introducing a new way for drug development, including in vivo-in vitro correlation, BE, and the impact of food or drugs on drug absorption.

Logan is also accepting samples for dissolution/permeation tests. For more information, please contact Ms. Joan Lee (TEL: 732-302-9888, ext. 105) at Logan Instruments Corp.