DWS Triple Release Offers Major Enhancements
Agilent's Dissolution Workstation Software (DWS) version 1.7 is now available to further facilitate compliance in your laboratory. This release provides significant updates to all three versions of the DWS platform - the core software for traditional manual or semi-automated systems as well as the 280-DS Mechanical Qualification System (MQS) and 400- DS small volume USP apparatus 7.
The DWS advantage enables complete operational control and automation, structured user-level permissions and access, multi-level e-Signature reporting and much more. Version 1.7 enhances many of these functions and capabilities, some of which include:
Set and forget with automated backups - Take a deep breath and relax; your SQL database is safely backed up as regularly as you need and at times that are convenient. Equally, the choice is entirely yours to overwrite previous files or append the current back up. What's more, you can select the local workstation or client-server destination of your choice.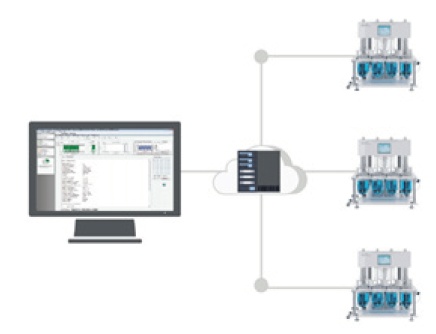 Customize your e-signature workflow - Your e-signature workflow has improved, now offering up to five authority levels as well as optional forced priorities. Configurable to suit your needs, this gives you the ultimate flexibility with control. All electronic signatures are permanently linked to the test results. Any attempt to sign a set of results using either an invalid user identification or password is automatically recorded in the system audit trail. This security feature enables users to successfully work in a compliant environment and ensure data integrity.
Your nanoparticle testing solution has arrived - Realize results faster with the newly introduced NanoDis System. DWS 1.7 delivers functionality with end-2-end operational control, complete system automation, and nanoparticle dissolution testing success. Activating NanoDis functionality ensures that only compatible parameters are permitted and available. That's right, the new NanoDis tab comes pre-loaded with default settings to ensure your success.
Also, check out these new features:
Manual sampling workflow added for Bio-Dis (USP apparatus 3 and 7) systems
Custom time point options for vibration, temperature, and media replacement only
Additional user notifications for manual and semi-automated systems to prevent errors
Updated Microsoft SQL version
Putting all this together, offers laboratory managers and analysts a paperless, organized workflow with flexibility and compliance perfectly suited for your cGMP environment. To find out more about the DWS advantage - or to upgrade your existing DWS, 280-DS MQS, or 400-DS App 7 systems - contact your Agilent representative or message the dissolution hotline at dissolution.hotline@agilent.com.
About Agilent Technologies
Agilent Technologies Inc. (NYSE: A) is a global leader in life sciences, diagnostics and applied chemical markets delivering insight and innovation toward improving the quality of life. Agilent instruments, software, services, solutions and people provide trusted answers to customers' most challenging questions. The company generated revenue of $5.34 billion in fiscal 2020 and employs 16,400 people worldwide. Information about Agilent is available at
www.agilent.com
. To receive the latest Agilent news, subscribe to the Agilent Newsroom. Follow Agilent on LinkedIn, Twitter, and Facebook.