Logan Filter Changer System
Logan Instruments is proud to present the filter changer system. The filter changer consists of 20 trays stacked on top of each other, with six syringe filters per tray. This system has an automated block that pushes the filter trays into place between each use. After being locked into place, the tubes from the syringe pump and the tubes to the HPLC system lock into the top and bottom of the filters. Once the test is complete and the filters are used, they are then pushed forward by the automated block, down a slide, and into a waste bucket for hands-free disposal. After the used tray is removed, the next tray is pushed by the automated block and locked into place, ready to go for the next test.
The benefits of this system are not only the automation, it also provides an extra layer of protection for testing. Each dissolution tester Logan offers comes equipped with a filter to minimize the amount of media that travels to the syringe pump. The filter changer system provides an extra layer of protection from left over media that could skew data or potentially damage an instrument.
The filter changer system is used in correlation with a Logan universal dissolution tester and syringe pump system, including online and offline systems. The filter changer is added after the syringe pump for the most filtered and accurate data. The filter changer system can be used with USP Apparatus 1, 2, 5, and 6.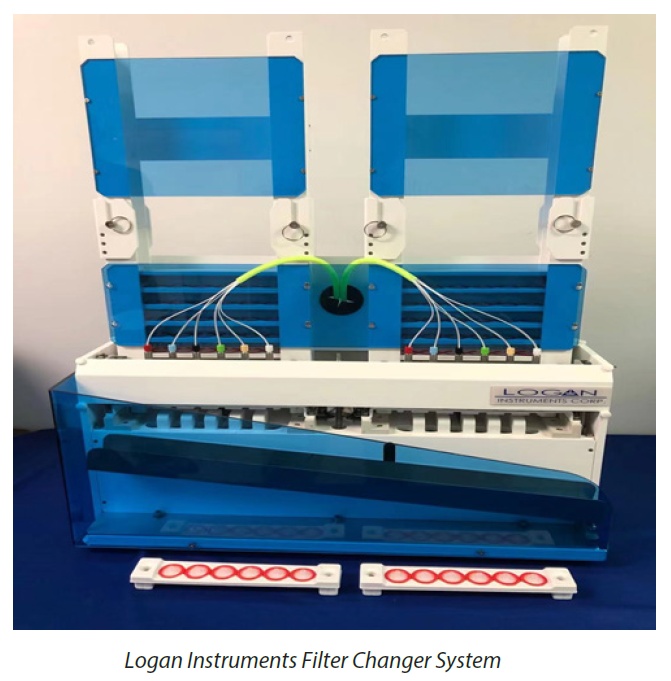 For more information, contact info@loganinstruments.com.