Quality Lab Accessories (QLA) Announces the BT1000 Dissolution Validation and Reporting System
The Next Innovation in Validation Technology has arrived!
The BT1000 Dissolution Validation and Reporting Bluetooth System is a critical tool for any laboratory looking for an easy way to maintain compliance in the digital age. The full suite of specialized, easy-to-use tools and intuitive software platform delivers the speed and flexibility you need to perform quick, efficient, and accurate dissolution tester calibration routines.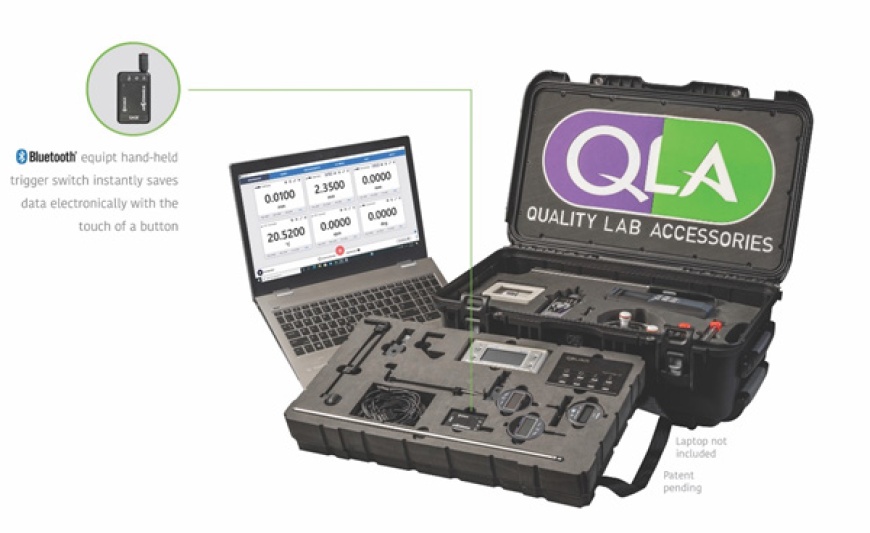 This system includes all the tools required to comply with current industry guidance for dissolution validation and has been designed for use on almost all open and closed head dissolution testers. Data transfer is performed using the latest in Bluetooth wireless technology and supports 21 CFR Part 11 compliance for data integrity. The hand-held trigger switch instantly saves data electronically with the touch of a button, eliminating the need for interpretation of dials or errors from transcription by hand. Our intuitive software interface offers the capability to quickly create custom test parameters, methods and reports for Vessel Centering, Shaft and Basket Wobble, Apparatus Height, Vessel and Shaft Verticality, Spindle Speed, Temperature and Vessel Plate Level.
Seamlessly attach component CoCs/CoAs and calibration certificates directly to the report. The serialized tools are packaged in a rugged Nanuk rolling case and come with NIST traceable calibration certificates. A full year of warranty and support is also included.
To learn more about the BT1000 system, contact QLA at +1 908 685 7500 or visit www.qla-llc.com.
About Quality Lab Accessories LLC (QLA)
For over 25 years, QLA has been a leading manufacturer and supplier of Dissolution Accessories and Consumables, Calibration Tools and Services to Pharmaceutical Laboratories, worldwide. We pride ourselves on being the only company in our industry that not only has a dedicated sales force and Lab Services division but also a fully staffed machine shop and modern manufacturing facility located in Telford, PA. Our products are engineered and manufactured according to the precise specifications of the USP and Original Equipment Manufacturer (OEM). We are the "go-to" company for custom fabrication and we solve unique lab problems with innovative designs and common-sense solutions. QLA is ISO 9001 certified (Cert# FM595556). QLA's main goal is to give our customers the ultimate customer experience in our industry.